Advocacy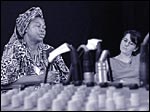 In the interactive television studio during the U.N. Special Session "Women2000," New York, June 2000. NGO women from around the world discuss health: on the left, Princesse Happy from Cameroon, on the right, Dominique Foufelle from France.
(click to enlarge)
Advocacy has become an essential part of many women-in-media and communication organizations, and a focus of Section J. Whether it is advocacy to other women's organizations, media, government, other civil society organizations, advocacy is essential to bring about change in how women are portrayed in the media.
Africa
In Accra, Ghana, Women's Voices was developed to assess the impact of the implementation of government policy to achieve the Beijing goals. It focused mainly on Ghana's commitment to the areas of health, education, economic empowerment, and female child education. It had aimed to give a voice to women who did not have the opportunity to discuss their concerns and demands.
The programme was developed with community-based women groups, Ghanaian NGOs, and international groups working with women in the communities that were selected for this purpose. Docu-drama was used to play out the economic issues and break down cultural barriers to be able to speak frankly about reproductive health. Interviews, commentaries, personal testimonies, and focus group discussions were part of the dynamics that helped produce radio spots. They are still used to lead discussions on these issues.
Asia and the Pacific
In the Philippines, the Philippine Centre for Investigative Journalism (PJIC) created a Women's Desk in 1995 to produce investigative and feature reports on women's issues. Since then, 28 reports have been produced, resulting in credible and reliable documents to which columnists, and public officials have devoted column space and airtime. For instance, in July 1995, the then President Fidel Ramos called for a stop to sex tours after the Desk's exclusive coverage of a secret trip by Australia-based women's advocates to Angeles City, where Australian syndicates were believed to be running a thriving sex tourism business.
In 1996, the Desk produced various investigative reports, dealing with urban poor women struggling to overcome poverty, violence, and AIDS. One of these was selected as a finalist for the first Award for Excellence in Writing on Women and AIDS sponsored by the UN Joint Programme on HIV/AIDS and the AIDS Prevention and Control Project from over 120 international entries, and won second place.
The project was a challenge in terms of making editors accept media coverage written from a gender perspective. It was a pleasant surprise to find out that media welcomed their work on issues such as contraception, agriculture, labour, education, health, and nutrition.
In New Delhi, India, the Centre For Advocacy and Research (CFAR) works on advocacy and research in and on the media. It monitors print, radio, television; conducts surveys on emerging trends, and, with the research, creates awareness by media about crucial issues. CFAR's main focus has been television, since the last ten years have seen phenomenal growth in the medium. Before the 1990s, television was State-controlled in India. Currently, there are 40 channels on the air, most held by giant media houses.
CFAR monitors news and current affairs, soaps and serials, situation comedies and talk/chat/game shows, all of which require separate standards, and an understanding of how each genre works in the Indian context. Monitoring tools are revised to keep pace with developments in programming styles and content. Its monitoring is supplemented with audience research to ascertain what viewers watch, how they watch, when they watch, and how a programme affects them. Interaction with audience groups has resulted in publishing documentation on viewer preference, and in providing these groups with an identity and with high awareness of their rights as consumers.
The monitoring and research information is used for advocacy. CFAR set up Viewers Forums in the North Indian cities of New Delhi, Lucknow, Ahmedabad and Mau for viewers to state their opinions in an organized, timely manner. It has created advocacy training modules for grassroots practitioners, with simple and effective how-to's for interacting with media, presenting issues lucidly and comprehensively, and retaining media interest in the process. Four training modules were prepared on Television Images and Policy, Advertising, Media Laws and Technology (you can visit us at www.viewersforum.com).
The Forum dialogues regularly with policy makers, channel managers, directors, producers, actors, advertisers and regulatory bodies within the industry. The members of the Forum produce a regular newsletter called Viewers' Voices in English and Nazariya (meaning Viewpoint) in Hindi.
CFAR has access to government policy makers, heads of broadcasting among the state and private networks, and programme managers, keeping them informed of programme trends, audience opinion, and related happenings. It keeps these crucial channels of communication open, so broadcasters who are establishing new norms and practices become more inclusive and gender-sensitive.
Arab countries
In Cairo, Egypt, the Population Council and Future's Group International organized a communications activity with the aim of increasing reproductive health information in Arab newspapers and publications. The objective was to create a network of journalists specialized in this issue, enhancing their knowledge of specific areas related to population and reproductive health issues; improving the content and the quality of reporting in the Egyptian Arabic language press; and increasing the coverage of reproductive health issues in selected daily and weekly leading newspapers and magazines in Egypt. It also aimed to strengthen the professional network of talented journalists interested in and committed to covering reproductive health issues.
The activities implemented consisted of four round tables with key researchers as speakers; the compilation of a packet of resource materials distributed to the journalists who attended the round tables; and brainstorming to start thinking about the type of articles that could be written on the issues. Regular contacts and follow-up with journalists occurred after each meeting.
Every day, press clippings were taken from all the newspapers and magazines that the group members represented, as well as others, and were reviewed regularly. A content analysis of the press clippings was conducted to examine the number of articles and quality of coverage. This was useful in determining the overall space devoted to these issues in the Egyptian press, and the depth and variety of information presented. The network of journalists created through this project is still active and allows the regular exchange of information on reproductive health issues.
Due to the success of this communications activity, it was decided to replicate the project in Jakarta, Indonesia, and in Dhaka, Bangladesh.
Latin America and the Caribbean
In Haiti, the Women's Desk of the Centre for Research and Action for Development (CRAD) and its Information Service (SICRAD) publish a monthly popular magazine on gender issues called KOME: journal popile fanm.
The Women's Desk works mainly with rural women on education and health issues from a gender perspective, and is involved in the struggle of Haitian women for democracy and the right to freedom of expression. Kome is a space for women to discuss issues and cover activities of women's organizations. The magazine has good links with community based organizations and radio stations. It is published in Creole, Haiti's national language. It also has an audio and electronic component. The audio version reaches mainly rural women, mostly illiterate. Women are encouraged to contribute information, opinion columns, and articles.
A series of successful National Communications Campaigns have been organized by Calandria, a communications NGO from Lima, Peru. The campaigns started in 1996 and have focused on women's rights and struggles against discrimination. Calandria's team realized that it was necessary to enhance their education, awareness, and lobbying tasks with a campaign that could reach media, and use communications tools to get to the people.
The campaigns included a survey in which several issues were probed: gender equity in Congress; perceived progress in the Beijing+5 process; women and political participation in municipal elections, etc. The results of these surveys were presented as part of a public event. Video, booklets, and leaflets are used to present the issues to grassroots people in the city, suburbs and rural areas. The survey results are sent to the main newspapers, and radio and TV spots are produced for national broadcast. Video debates take place in inland towns and villages and in the main squares in big cities.
The campaigns have created a favourable climate for education on citizenship and civil rights; promoted women's participation at the municipal levels; and created a better environment for women politicians.
In Cuenca, Ecuador, three organizations hold an annual contest: Women: Image, and Testimonies. Since 1994, ALDES, HABITierra and SENDAS have come together every year to make visible and re-evaluate the participation of women in society regarding gender equity. The contest was national until 1999, but, since the year 2000, has become regional with the participation of writers and photographers from the Andean countries (Peru, Bolivia, Colombia, and Ecuador).
The contest consists of testimonies on women's lives and experiences, as well as photographs on women. Women and men can take part in the contest. They belong to popular organizations, trade unions, student unions, housewives' leagues, professional associations, etc. Over 448 writings and 194 photos were presented last year. All writings that are selected and awarded become part of a publication and go from town to town, encouraging debate, meetings, and communication events. Radio scripts are based on the testimonies and programmes for broadcast.
The organizers feel that this contest has contributed to gender equity, helping value the role of women in family and society. It has enhanced women and men's perception of gender relations, and the will to overcome discrimination, stereotypes, and bias. Women have been empowered, and see themselves as social actors with equal rights and opportunities.