Outreach to Media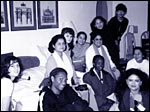 The members of the Global Women's Media Team, New York, June 2000.
(click to enlarge)
Women's groups working on media have learnt that building positive relations with media institutions and professionals are essential for improving the portrayal and position of women in media. They know they must move beyond the complaints about the inadequacies of media content, and express constructive criticism. Many media advocacy groups have realized that one way of getting more women's voices heard in the media is to build strong alliances with sympathetic media professionals – reporters and managers. Forging alliances with media is both a long and short-term goal. The challenge is to ensure that media handles women's concerns, achievements, and activities with a gender perspective and sensitivity, and in a reliable and sustainable manner.
Bringing a gender perspective and sensitivity to media content is a skill. Women's groups have had to and need to be very innovative to keep their concerns in front of the media, while co-operating with media professionals. Most important, there is a great need for continuing education of media professionals, male and female.
Global best practices
The Global Women's Media Team (GMWT) was organized by Isis International-Manila at the UN General Assembly Special Session to review the implementation of the Beijing Platform for Action (UNGASS) in New York from June 5 to 9, 2000. The goal of the project was to cover the issues discussed in the UNGASS, and make it accessible to women's organizations, NGOs and mainstream media.
It brought together 13 writer-trainees from women's NGOs, two editor-trainers, a media liaison staff, an administrative staff, and one project co-ordinator. These writer-trainees attended a preparatory workshop and had daily sessions with the editor-trainers as resource people. They wrote news and features, which were disseminated to media, outlets in New York, their own countries and key press agencies.
It was unique in that it combined media coverage with actual training. The implementation of the project required effective planning and partnership with different networks and institutions. The GWMT produced 49 stories/press releases in English., some of which were translated into other languages and sent to 168 print, broadcast and electronic media outlets around the world using the Beijing+5-news electronic mailing list and fax. These were posted on the WomenAction site (www.womenaction.org) and apwomen 2000 mailing list. Quite a few of the releases were picked up by several media around the world. Since UNGASS, team members continued the outreach in their countries.
The training component also included a workshop on media monitoring and networking by Gabrielle le Roux of Media Watch South Africa; a hands on workshop on Internet broadcasting by Feminist International Radio Endeavour (FIRE). In retrospect, the project could have benefited from a larger and more timely pool of funds, so that the organizers could do a better job.
Women's Feature Service (WFS) is an international news and features agency covering development issues from a gender perspective. Created in 1978 by UNESCO in conjunction with the UN Decade for Women (1975-85), the goal was to get women's writing and analysis into the mainstream media, and, therefore, to influence policies related to women and development. It was a project of the Inter Press Service; an Italy-based third-world news agency from 1978-90. Since 1991, it has been operating as an independent organization from New Delhi, India.
The WFS currently produces 432 news and 480 feature items from 30 countries written by 120 women journalists, the majority of whom are from the South. WFS has systematically covered the UN international and regional women's conferences since 1980 and published a daily newspaper at the Beijing conference and other conferences, providing media coverage in English, Spanish and sometimes French. This has also been offered to regular WFS mainstream media clients. WFS has and continues to conduct on-line training for its writers, and works with various civil society organizations in their outreach to media by offering advice media strategy.
Africa
During its Sixteen Days of Activism against Violence against Women, the Kenya based Coalition of Violence Against Women (COVAW-K) first started its work with mainstream media. As a women's human rights organization, it is committed to the eradication of all forms of violence against women and the promotion of women's human rights. Since its formation in 1995, COVAW-K has been working to sensitize women, men, and young people on the issue of violence against women. Through a public debate in the media, the issue of violence against women has been put on the local and national agenda.
The annual global campaign, "Sixteen Days Campaign" has been marked in Kenya for several years now. By deliberately involving the media, it has been possible to promote an open public debate on various aspects of violence against women – to break the silence, to demystify myths, and to challenge repugnant cultural norms. There is an increased awareness among women, men, and youth on the different manifestations of violence against women. Building a rapport with the media was needed so that cases of violence against women would be reported without bias; and to publicize the activities of the Coalition, so that people know where to go to in times of need.
The result of this campaign has been tremendous – many women have become aware of the issue and have joined the activities nearest to them. Some people that COVAW assists now came through the media campaign. Journalists are more aware, and COVAW will definitely continue working with the media to keep the debate "alive."
In Bujumbura-Burundi, the Saving Women's Life media campaign was organized around World Population Day 2000. A journalists' network was formed, and government institutions and local NGOs participated. Articles appeared in different newspapers; television and radio shows were produced and aired, and a videocassette about World Population Week 2000 was produced. A debate was broadcast on radio and television; there was a game contest on Reproductive Health; and there were testimonies on cases where organizations saved women's lives (such as the Association of Women Lawyers and the Iteka League). Prizes were given for a drawing contest in schools organized by an UNFPA project for children aged 6 to 18. Posters and banners were put up in Bujumbura on the theme of "Saving women's lives."
Asia and the Pacific
In Nepal, the Women's Communicators Group conducted a Gender Orientation Workshop for Media Professionals to encourage gender-insensitive reporting and to discourage the negative portrayal of women. The objective was to establish a common understanding of basic gender concepts among journalists, increase their analytical skills for gender-fair reporting, and to strengthen advocacy for mainstreaming gender in the media.
To increase cooperation and build partnerships with journalists' associations, media educators, and gender experts, a training manual was developed in consultation with recognized media educators to ensure ownership of the process. The basic orientation workshop was followed up by a Training of Trainers (TOT) to produce gender trainers out of media professionals. Smaller follow-up workshops were conducted to provide new trainers with opportunities to use what they had learned.
A media monitoring exercise followed these sessions. There was a noticeable increase in the coverage of gender issues, and media coverage also became more gender-sensitive.
In Australia, the Media Entertainment and Arts Alliance (MEAA) began research on the status of women working in the media as part of a broader study by the International Federation of Journalists. Its aim was to determine the status of women working in the media and issues affecting their role in media organizations throughout Australia.
Three thousand women working in print, radio and television received the survey. It covered recruitment, pay equality, promotion, job segregation, training, and development, working conditions, maternity leave, childcare, sexual harassment, equal employment opportunities and the role and perception of the union.
The MEAA received 368 responses (a response rate of 12.3%). The survey established that the biggest issues are equal opportunity for promotions, childcare, and sexual harassment. There was evidence, for example, that "family responsibilities have an impact upon women's work in the media," with almost 10% saying that they have had to leave a job due to pregnancy-related reasons. Fifty-one percent (51%) said they have had to put up with sexist remarks, gestures, and other forms of harassment that have undermined their confidence and affected their work.
With these results in hand, MEAA plans to address the extent of direct and indirect discrimination in the workplace, and to identify contemporary issues that concern women working in the media.
Arab Countries
The Tunis-based Centre of Arab Women for Training and Research (CAWTAR) is a reference centre for the Arab region allowing governments and NGOs to integrate a gender approach into their policies and programmes for the advancement of women. It is an information centre working to raise awareness of policy-makers and planners to ensure that more women participate more in decision-making in all fields and levels, and to recognize women's contribution to development.
CAWTAR has launched three contests to select the best article on the themes "Arab women five years after Beijing", "March 8th in the Arab Countries" and "The Greatest Accomplishments for Women in Your Country" and "What is Modernity for Arab Women in the 21st Century?"
The main objective of the first action was to make known the Beijing Platform for Action and contribute to the implementation of the recommendations of the Beijing conference with regard to the fight against discrimination against women, the guarantee of women's rights and the furthering of women's participation in development. Positive reactions to this initiative and the involvement of several partners in making the first contest a success greatly contributed to the success of a second contest, launched in November 2000. During the first Arab Women's Summit, organized in Cairo, Egypt, last November, the year 2001 was declared "The Year of Arab Women." Using this as a framework, CAWTAR decided to launch its third contest aimed at Arab journalists (written press) to encourage them to follow the events of this year and to reflect on the third theme mentioned above.
By organizing these contests, CAWTAR wants to identify journalists who can integrate a gender approach into their writing, and present the diverse images of Arab women's contribution to development. It wants to unite journalists and necessary documentation – treated and furnished by CAWTAR – to produce in-depth articles on priority topics. Through these actions, CAWTAR hopes to help improve the ability of the media for more gender-sensitive reporting and thus to contribute to promote and protect women's rights in Arab countries.
The Arab Women Media Centre in Jordan works mainly to train and educate women in the media so that they can be stronger in the workplace. It also works on media education for non-media personnel and the public. Its aim is to run a media business (prints, audio, video), which focus on women, children and family rights. It houses a media-training centre to help unemployed women in the media to find a job and protect them from being abused by media agencies.
The Centre has good links with government and NGO media institutes. Their activities and inputs have been well received by the media and published in daily and weekly newspapers. Local television channels and local and foreign radio stations have also covered the Centre's work.
Europe and North America
In Canada, More Than Just a Dozen was a radio project based on the 12 Areas of Concern in the Beijing Platform for Action. Its aim was to develop tools that could be used by trainers and educators for educating secondary school students and others to share the voices of women who have worked and are working internationally in these 12 critical areas.
Twenty-four radio programmes (with educational booklets with transcripts for educators), and a CD were produced. These were distributed widely to educators mainly in Canada, but also through development agencies internationally. The booklets are very much in demand, and, along with accompanying radio programs, they have been developed into workshops for teachers. The use of multimedia, the 12 Areas of Concern, as well as its focus on young people, all make this project unique.
Founded in France in 1996, Les Pénélopes are the shock troops of feminist journalism. Their media strategy is based on "invasion": first Internet, then other media. According to Joëlle Palmieri, co-founder of Les Pénélopes, "What Internet has made possible is the creation of our own channel of dissemination. We believe this was a decisive factor. We don't have to depend on a political or economic entity to broadcast. I would go so far as to say that our strategy as women should be to have our own satellite!"
The Pénélopes' Web site, created in 1997, has allowed them to disseminate a large volume of information. Their all-volunteer team searches the planet for news, and what they collect and transmit is largely "unpublished, at least in France, because it is chosen from a gender perspective." This site, and their so-called "media harassment" policy has won them an exceptionally good media coverage: interviews, newspaper articles, and soon requests from media to publish content by Les Pénélopes. Their first deal was for a weekly television program on Canalweb, the first French-language Web-based television station. Canalweb provided the technical infrastructure (technicians, machines, servers…), and Les Pénélopes provided the content: an hour-long feminist program every week.
Making this show for Canalweb gave Les Pénélopes the credibility and the experience they needed to go into production on their own a year later. They started with a bang): during the six days of the Special Session "Women 2000", Les Pénélopes teamed up with WomenAction to offer a genuinely "multimedia" coverage of the event. The Web-TV program welcomed more than 50 women from all regions to discuss topics including media, armed conflict, globalization, health, environment, and Francophonie (the French-speaking world). Since then, they have roamed the planet producing their own open, international, nomadic television program, which they broadcast once a month on their own server.
Although Web-TV is not accessible to the majority of the world's women, their approach has nonetheless been fruitful. Television has a language, a dynamic of its own, one that is familiar to women throughout the world. This dynamic allows women to say things that they would not say in any other media. In addition, the programs that Les Pénélopes produce make up a precious video archive that can one day be disseminated more broadly.
In the meantime, Les Pénélopes are invading other media: a column in the leftist newsweekly Politis gives them a wide dissemination in a written medium, and of course they haven't abandoned the Internet. Since joining European WomenAction in the fall of 1999, they have taken the lead in covering important "official" events (CSW, UNGASS, Davos) as well as "parallel" one such as the World Social Forum in Porto Alegre or the People's Summit of the Americas in Quebec). Their short, snappy articles have crossed the planet, ensuring that women who could not intend were still informed. Palmieri sums up Les Pénélopes' approach to media "We must come on strong, as professionally as possible… our strength is our content and our practices; all we have to do is value them. It is imperative that we have an offensive, even an aggressive, strategy. We have nothing to lose and everything to gain! This is how we can change the image of women in the media: as actors (authors, creators, artists, directors), as subjects (daily life, politics, work, violence…), as audience."
Latin America and the Caribbean
In Mexico, journalists have organized CIMAC (Communication and Information for Women), a multimedia body seeking to influence national and international media, from a gender perspective. Female and male members of CIMAC work to produce and disseminate to the mainstream media information on the status of women, sexual and reproductive health, women's human rights, and violence against women. CIMAC was founded in 1987, and due to its credibility, was able to create a journalists' network ten years ago. It has a news agency, a documentation centre with an archive of newspapers and publications open to the public.
CIMAC also monitors Mexican newspapers; acts as consultant for media outlets and journalists that want to work with a gender perspective; and trains journalists and media practitioners for gender equity.