Media Codes and Standards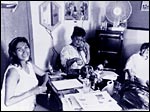 [need caption]
(click to enlarge)
Will media accept and adopt a code of conduct and ethics that specifically addresses gender-fair reporting? What exist are general codes and guidelines that deal with morality, good taste, and decency – concepts which, as women activists and media professionals point out, are open to subjective interpretation.
In recent years, however, there have been initiatives by women's groups and media professionals to address the lack of guidelines regarding coverage of women and women's issues. While these efforts have not yet produced codes duly signed and adhered to by media entities, they have nonetheless paved the way for open and frank discussions on the issue of gender-sensitive media coverage, particularly on issues such as violence against women.
There is growing recognition that such codes will not only help upgrade women's status, but also help raise the quality of journalism in general. It should be stressed that the media need to learn that mainstreaming is a process and that gender can be a key tool or activity strategy to effect organizational change, especially in the voices and perspectives provided in its editorial coverage.
Global
Since its creation in 1964, the Inter Press Service (IPS) has become a major information provider, promoting human rights, democracy, and good governance through its innovative system of inter-cultural communication. Its project "Strengthening Gender Perspectives in IPS News Coverage" provided the agency with the opportunity to incorporate gender in a more systematic and planned approach starting in 1995.
IPS started a process of examining gender roles and responsibilities within the organization, and the creation of a gender-responsive editorial and employment policy to guide the agency's work toward better practices. At the same time, the training (seminars and on-line training by the editors) of the its journalists on gender and development issues and concepts. In 1995 and 1996, mechanisms were implemented to increase the number of women participating in IPS activities at all levels. In 1996, the agency began developing a gender policy, and in 1997 it developed strategies and training to ensure implementation of the policy.
It focused its attention on improving the gender perspective and women's voices in coverage by IPS journalists of all issues. Training programmes were designed specifically (e.g. Africa region organized training on gender and human rights, the Caribbean held general training to introduce gender and development concepts and issues). General guidelines on portrayal, sources and use of data were developed, and a gender glossary was produced in English and Spanish. A set of gender guidelines for journalists was produced and regional gender teams were then set up to continue dialogue on policy and to assist with policy implementation
The IPS experience in mainstreaming gender has meant new partnerships with organizations working in women's rights as human rights, gender, and development. These organizations have become key sources of information to IPS journalists and also have been partners in the development of seminars and training programmes for the correspondents and editors.
Asia and the Pacific
Isis International was established in 1974 with the goal of providing women with alternative channels of communication. Five years after the formulation of the Beijing Platform for Action, Isis International-Manila organized national and regional workshops on women and the media to review developments in the field since the Platform for Action. It found that there were some media codes with provisions on gender. However, most of these either contained general provisions that pertained to taste, decency, and morality or reinforce the traditional roles assigned to women. None identified stereotyping of women as a problem, or stressed the need to project more diverse and empowering images of women. The workshop participants emphasized the need to produce minimum regional standards in relation to women and the media.
At a 2001 workshop in Malaysia to discuss this subject, two key objectives were identified. The first one was to examine and share experiences on how gender-fair provisions can be incorporated into media codes and enforced. The second was to develop strategies for establishing, incorporating and implementing minimum standards for media codes of conduct at the regional level, given the cultural differences and diversity within the region. It was also discussed whether gender fair codes of conduct would run contrary to freedom of expression; and whether media codes should be self-regulatory or State-imposed.
A key result of the dialogue was the identification of gender principles for media at the regional level to be adapted at the national level. The participants agreed that governments' attempts to impose their own version of morality through a state-sponsored code could even reinforce gender stereotypes. Internal or self-regulatory mechanisms, they said, would be more effective.
The Australian Women in Television Project started in 1997, with project activities in the capital city-states of New South Wales, Victoria, South Australia, and Queensland.
The Australian Film Commission (AFC) conducted research in 1996, in which 52 senior women in Australian television were interviewed by telephone to know about what had helped their career advancement, what barriers had they overcome, and any strategies that they thought would assist other women in television to advance their careers. Focus group discussions with women at mid-career level in television were also held in Melbourne and Sydney to obtain feedback on the information obtained from the telephone interviews.
Almost all of the women interviewed (90%) said that women were underrepresented in senior positions across Australian television, saying that informal networks would assist in reversing this situation. Other suggested skills development programmes (particularly pitching and negotiation skills), the establishment of a mentoring programme, and promotion of strategies for how to balance work and family while in the industry. The research outcomes were discussed with the major Australian television networks and they all agreed to work co-operatively with the AFC.
As a result of this project, approximately 200 women annually have been provided with the opportunity to network with others working in similar areas in television. The project has diversified from networking functions to skills development workshops, the publication of a book Shared Visions: Women in Television, and a soon-to-be published booklet of case studies on strategies for balancing work and family while working in television. A mentoring programme for women working in television has been funded by the Australian Film Commission, and will be undertaken by Women in Film and Television (WIFT), a national NGO.
Arab countries
The Al-Quds Educational TV, of the Institute of Modern Media of Al-Quds University, in Ramallah, West Bank, Palestine, developed two projects to promote a balanced and non-stereotypical image of women in Palestinian and Arab media.
The first was a series of six 15-minute documentaries related to Gender and Development. Six characters (men, women, educated and non-educated, and non-popular) were chosen to be role models. Each film shows a profile of these women and men practising their normal life. Topics discussed were promoting gender concepts in the Palestinian local community, women's right for education, loans and micro-enterprises for the support of women, oral political history and the role of Palestinian women throughout 1930-1950 and stories of women political activists. The documentaries were shown on TV and are also used in workshops in different locations, especially camps and villages. Women's organizations use them as tools to promote women's participation in social and political life and their recognition as key actors in the life of their country.
The second was training workshops with Palestinian journalists on issues such as gender and human rights, gender and media, gender and TV production, in the framework of the Convention for the Elimination of All Kinds of Discrimination Against Women (CEDAW). Workshops resulted in the production of a TV talk show entitled "Palestinian women and Media coverage." It included four field reports on Palestinian women portrayal in advertising, TV series, local TV programmes, and the role of Palestinian women journalists in news coverage. It was distributed to seven TV stations in the West Bank and Gaza, including the government owned TV (Land Channel and Satellite Channel).