Use of New Information and Communications Technology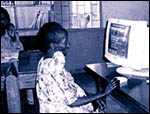 A rural woman (known as Anastasia), who usually spends her days working in the fields near the Nakaseke telecentre in Uganda, tries out a new set of materials on "Ideas for Earning Money" produced by IWTC in partnership with local women's groups. With a click of the mouse, Anastasia hears everything in her local language.
(click to enlarge)
The information revolution has given birth to the World Wide Web, satellite and cable TV, desktop publishing and electronic networking via the Internet. It has paved the way for press freedom and democracy in many countries in the world.
ICTs have also enabled women's groups with diverse interests and agendas both within countries and across borders to come together. They have discovered the liberating power of the Internet and its rich possibilities. Many women's NGOs who went online say they have benefited by gaining more visibility through Web sites, having access to donor assistance, and information especially of international and regional activities, relating to the women's movement. Reports point to the fact that ICTs have given women employment.
Yet, despite these reported gains, there are more women on the other side of the digital divide, without access to ICTs. Structural barriers such as poverty, uneven economic development, language, and technophobia further exacerbate the situation.
There is also a growing concern that the information revolution is creating a new world communications order that is being shaped and dominated by big transnational corporations that care more about profit than public service. Fears have been expressed that the commercialization of media could lead to the marginalization, even death, of small, indigenous media outfits that cater to voiceless sectors, including women.
To address ICT gaps and inequalities, a number of NGOs around the world have made it their special mission to help women understand ICT and equip them with the necessary tools that they can use to help themselves.
Global
The processes of the UN Decade for Women (1975-85), the Fourth World Conference on Women (1995), and the UN Special Session in June 2000 also started a trend. It helped direct women's groups to make use of new ICTs in ordeuse of new ICTs in order to share news, activities, and information; to network for lobbying and advocacy, and to organize their participation during major UN meetings where issues of interest for women were discussed.
The Women's International Network (WIN) of the World Association of Community Radio (AMARC) used e-mail effectively for strategic and preparatory discussions for their participation at Beijing+5. The AMARC office in Montreal initiated, animated and summarized the discussion in which about ten women participated actively for four months, in English, French and Spanish.
During this, they were able to, among other things, prepare a position paper on AMARC-WIN for Beijing +5 on Section J; write an alternative world report on Chapter J on Community radio; co-ordinate the participation of the different members of AMARC-WIN at the Beijing+5, and decide on activities in New York. From this experience, WIN members realized the potential of their network for active participation in a major discussion with an active facilitator to moderate it. They effectively repeated the experience again in November 2000 to submit a project proposal to UNIFEM for a Radio Campaign against violence against women.
The Women's International News Gathering Service (WINGS) is based in Austin, Texas, USA, and involves radio stations in the US, Canada, Australia, New Zealand, Ireland, South Africa, and Costa Rica, and short-wave and Internet distribution reaching most of the world where technology to receive it is available.
WINGS was founded in 1985 to continue coverage of the global women's movement, after the UN Decade End Conference for Women. It arose out of the context of the women's news movement that began on local community radio in the early 1980s, the creation of AMARC and the US National Federation of Community Broadcasters.
The objectives were to create and maintain regular time slots for women's information, voices, issues, and actions, on non-commercial radio across the English-speaking world. It also aimed to increase understanding within the women's movement of the importance of using media and to train, help and raise awareness among women reporters and producers from the grassroots to the professional level. WINGS is eager to help other women get involved in radio production and access radio technologies.
WomenAction 2000 grew out of a Global Communications Forum held during the first Preparatory Commit Preparatory Commission meeting for the Beijing Platform for Action Review (Beijing+5) in March 1999. The discussions focused on how the organizations and networks could keep in touch during this process and collaborate in order to widen women's participation.
All activities for the UNCSW in March 2000, and the UNGASS, in June 2000, were discussed and co-ordinated by e-mail. The group at these forums included women journalists, editors, translators, technicians, Webmasters, designers, radio and TV producers, trainers, and women skilled in Internet tools to distribute news and information widely. The main efforts of the WomenAction team were directed towards producing the daily newspaper for print and electronic distribution, running the Internet café for NGO delegates, and co-ordinating the Women and Media Caucus's efforts to effect substantive revisions in the Outcomes Document of the UNGASS.
The Feminist International Radio Endeavour (FIRE) and Les Pénélopes, a French feminist organization that produces interactive TV programmes ran their own media and communication activities in cooperation with WomenAction, making this project a multimedia effort. Thousands of women in New York and other regions received daily informatly information.
Africa
Women'sNet, based in South Africa, aims to make technology accessible to women, particularly those who have been historically disadvantaged. It provides responsive, gender-sensitive training and support, create strategic links between projects and organizations working around women's issues, provide a platform for women's voices and facilitating the dissemination of information in formats that are accessible to women who are not directly linked to the Internet. The rationale behind developing the community radio project was to improve the flow of gender content in programming and news.
Women's Net organized a series of workshops to develop the capacity of women's/gender organizations to handle the media. Participants learned how to use field recorders, how to improve their interviewing skills, and how to put together an "interactive" (in the non-technical sense) programme. They learned about digital formatting and editing. Participants were encouraged to think about gender issues, and adjust their programming accordingly.
This workshop gave Women'sNet further opportunity to learn about the divergence of cultural influences and how influences and how these impact on radio workers' programming. It got an insider's perspective and understood community radio better. Although the nature of the workshop resulted in very difficult and "sticky" moments, both parties (organizers and participants) left with a good understanding, and new perspectives.
The Women Connect! Project took place in Zimbabwe, Zambia and Uganda, bringing about greater empowerment of women through the effective use of communication. It developed a small grant programme, which benefited 26 projects in three countries. Among these were the Women and AIDS Support Network, Zimbabwe; The Zambia National Association of Disabled Women: and Isis-WICCE, Uganda.
Other projects included a grassroots newsletter addressing community needs in reproductive health knowledge and services; a community publishing involving villages in producing media on AIDS, domestic violence and rape; and a media campaign on women's rights launched during an annual advocacy event called "16 Days of Activism."
Famafrique is the Web site of French-speaking African women created in July 1999 as an initiative of the NGO, Enda-Synfev. It contains a variety of information in Freninformation in French on women and ICTs. In this way, women's organizations of the region are given a space in which their activities and organizations can have greater visibility, and help to master ICTs. A set of documents has been put on line for this purpose.
Famafrique receives 4,000 to 8,000 visits per week. The electronic newsletter, <La toile d'elles> provides its roughly 390 subscribers with a multitude of information on different fields of interest to them, national and international meetings, important news regarding women in French-speaking Africa and elsewhere. Enda-Synfev has organized workshops on networking and ICTs in French-speaking Africa.
The other activities in this programme are a partnership with various organizations with regard to the Beijing follow-up, the best known of which are: Flamme "network of African women online involved in the Beijing + 5 process in Africa" and WomenAction a global network of electronic "women and media [networks] involved in the Beijing+5 process".
In the telecentres that are popping up all over Africa, women need to be able to obtain information; yet they are not using the facilities, because: a) most of them cannot read; b) tt read; b) there is nothing available in their own language; c) there is nothing available on the subjects in which they are interested; and d) no one believes that they can handle computers. The International Women's Tribune Centre is working with women and community groups in Uganda on a project that hopes to reach rural women who are "out of the loop". As is the case in many countries, Ugandan rural women had to leave school extremely young and therefore have limited reading skills. When they are not in the fields growing food, they are selling food stuff by the road or in the market, caring for the children, cleaning, cooking, etc. But they have made it clear that they want to know about the world and about subjects that concern them in their daily lives.
The challenge was to develop something that would not require reading ability, that "spoke" to them in their own language, and that did not require extensive computer skills. All that the women need to learn to be able to use the programme is how to move and click the mouse. They click graphics – either faces or services or products – and then listen to a voice speaking to them in their local language. The field-testing that has already taken place has shown that the women wn that the women can handle a mouse. They were delighted to have access to information in their own language, via the spoken word, especially as everything was spoken by local women. It meant they could at last use the computer despite not speaking or understanding English, nor being able to read very well even in their own language.
This project therefore uses a CD-ROM format and browser software that can be loaded directly onto the servers in each telecentre. The user has the advantages of Web-page movement and shortcuts to various sections, without the disadvantages of possible slow downloading times, etc.
The subject of the first package of materials is small business, the subject most requested by rural women in several parts of Uganda. Called "Rural Women in Africa: Ideas for Earning Money", it is not a training manual, but rather a collection of ideas to spark discussion and encourage other ideas. IWTC hopes that it will be the first of many such "computer books", available at any time for individual women or groups of women at the telecentres (and internet cafes, women's community groups, etc.) in many parts of Africa where computers are becoming increasingly available to local women, using local languages and appropriate gs and appropriate graphics as needed. Other issue areas women wanted to know about included Women's Human Rights, Women and Peace Activities, and Women and HIV/AIDS
. The project is available online in Luganda at http://www.iwtc.org/luganda.html, and in English at http://www.iwtc.org/!start.html.
Asia and the Pacific
The Asian Women's Resource Exchange (AWORC) is the result of a workshop organized by Isis International-Manila in 1998. It is an Internet-based women's information service and network in Asia, geared towards developing co-operative approaches and partnerships in increasing access and exploring applications of new information and communication technologies (ICTs) for women's empowerment.
It is focused on lobbying and awareness raising campaigns on poverty alleviation, promotion of women's human rights and overall women's empowerment as outlined in the Beijing Platform for Action (BPFA). It provides avenues for women to develop skills in using new ICTs to enhance their areas of work and to use Internet facilities for greater access to information, analyses, and resources to various sectors of women for solidarity building, strengthening gender analyses, analyses, and developing partnerships.
The Korean Women Electronic Network Training (KWENT) was organized by the Asian and Pacific Women's Information Network Center (APWINC), in Sookmyung University, to promote women-related communication technologies for gender equality and equity. APWINC provides a Web-based information service to exchange ICT and women-related information. It promotes ICT education and training at three levels: dissemination, specialization, and globalization.
Europe and North America
The Centre de documentation sur l'éducation des adultes et la condition féminine (CDEACF) from Quebec, Canada, launched in 1998, au féminin, a long-term Internet project. Its goal was to help women use information and communications technologies as instruments of their own empowerment. CDEACF held meetings and consultations and published articles and flyers to help women understand how the Internet could help them in their work Around 500 women have been trained in the past two-and-a-half years. CDEACF has been able to obtain equipment and connectivity for over 100 women's groups. It has installed a self-sustaining, high-speed Interneg, high-speed Internet connection for a dozen women's federations in the Maison Parent-Roback.
It has provided the creation of a global network for francophone women activists, feminist scholars and students. It includes an interactive, resource-intensive Web site as well as several specialized discussion lists (netfemmes for women in general, netjeunes for young women, techno on women and technology, dialogues on bridging the language barrier, francofem on international issues involving French-speaking women). It offers consulting services and phone support to groups on new technology issues. It intends to create a critical mass of women's groups that are equipped, connected and well-versed in new technologies. In the community served by Netfemmes, the project has had an important multiplier effect: the Web training has led several groups either to create or to maintain Web sites.
CDEACF has helped groups create and learn to moderate mailing lists, either on its servers or using free services such as egroups. These are all-volunteer groups like the Youth Committee for the Fédération des Femmes du Québec and for coalitions like the World March, which use several lists on the server to co-ordinate r to co-ordinate activities provincially and internationally, and for a group of women in non-traditional professions (Femmes regroupées en options non traditionnelles) who now uses the Internet to build a virtual community for these isolated professional women.
In Northern Ireland, WomensLink is an Internet e-mail list developed in July 1997 by women from community-based women's groups.
WomensLink's objectives are to link up women's organizations and activists in Northern Ireland and the border counties of the Republic of Ireland to share and exchange information and to work together on issues of common concern. More than 40 subscribers currently use the Internet mailing list to share news and information. Use of WomensLink has resulted in many collaborations and partnerships within the women's community sector in Northern Ireland. For example, cross-border, cross-community exchanges where a Mother and Toddler Group in Belfast was able to make contact and visit a similar group in Donegal (Republic of Ireland). WomensLink subscribers recently voted online to extend the list to the rest of Ireland, making it an all-Ireland list.
In California, USA, the Salvation Army and Soroptimis Army and Soroptimist International started a programme to train women and youth from the Hispanic community in computer technologies. The programme is called "Get Access – a Women & Youth Computer Skills Training Program for under-served Hispanics." It aims at providing technology training to those who do not have access to the basic skills by furnishing the means to the community where it is needed most. "Get Access" uses the resources of the computer technology industry to model a program of self-confidence, career paths and offering the tools and technology.
In Winnipeg, Canada, The Women's Television Network (WTN) created WTN Foundation Inc. to ensure that girls and women were provided with the opportunities necessary to take their full place within the Canadian broadcasting system.
The programs provided by the WTN Foundation cross several generations and offer a life-long learning approach. It fully funds the Girls TV Camps and Clubs. It is free and for those girls from low-income families, girls whose families have recently immigrated to Canada, girls who are struggling at school, girls from culturally diverse communities. There is a program for girls who graduate from both the camp and tcamp and the club for staff jobs as junior camp counsellors. The Travelling Girls Documentary Team is for graduates of the camp/club. They attend conferences and events across Canada, which promote women and technology. At these events the girls' videotapes the conference events and edit on computers to create a documentary shown at the end of the conference. The girls also participate as speakers on panels.
The Women's TechNical Internship is for women just launching careers in broadcasting and for broadcast employers looking to create a diverse workforce. Partner schools who support the values of diversity in the workplace promote WTNI in their schools and encourage women to apply. Together WTN and the partner schools choose a candidate. The WTN Foundation then pays for half the apprentice's salary in a technical position for six months at the workplace of her choosing (excluding WTN). To date 45 women have launched careers under this program. In any given year anywhere between 75 and 100% of them continue with the employer after the internship period ends or use their new-found skills to land an even better job in the industry.
The wtndowment is for older women trying to catch up to the technical evolution and need financial need financial support for re-training. Women from across Canada who've been working in the broadcast industry for at least five years are invited to submit their homespun, personal education plan.
Latin America and the Caribbean
The Asociación de Comunicaciones Feminist Interactive Radio Endeavor (AC FIRE) began broadcasting on short-wave in 1991 with high-quality, non-sexist, activist programs in Spanish and English for radio and the Internet. In 1998, it began its innovative Internet Radio initiative. Today, people around the world can hear about AC FIRE on local radio programmes and stations, in magazines, on the Internet and in workshops and classrooms internationally.
FIRE's goal is to amplify the voices and ideas of women by participating in networks, and in local, regional and global initiatives. Its Web page is a media venue where one can hear, see and read women's voices about all issues. Monthly in-depth features give women's perspectives about issues, identities, cultures, and countries. All reports since 1998 are archived. The combination of text images and embedded sound files for "on-demand" listening, all form a unity where the voices of the women are central. Texts that can Texts that can easily be read on the air on any other radio (compliment) and contextualize what women themselves say about a specific issue.
The Internet features are turned into written articles published every year in its magazine Women's Voices on FIRE. They are also available on the FIRE Web page (at www.fire.or.cr); others are new or updates of the original Web features.'FIRE organizes special Webcasts from conferences and events. One example is the FIRE-PLACE at the Beijing+5 UN process. Co-ordinated with WomenAction, "Voices without Brackets" was webcast from the building across the United Nations in New York every day between June 4—9, 2000. Women guest producers from around the world hosted programs, focusing on the role of media in relation to the 12 critical areas of concern of the Beijing Platform for Action. In 2000, FIRE began to develop another kind of Webcast – marathons between 12 to 25 hours of uninterrupted programming on special days such as International Day Against Violence, International Women's Day, International Women's Health Day, etc.
Women around the world are invited to send their material about the issue that FIRE will broadcast on that day. Radio stations and other Webcasting Webcasting initiatives are invited to link live in a simultaneous way. The Internet audience is also invited to both listen in and write to FIRE and to the women they hear on FIRE, and especially to multiply the information gathered.